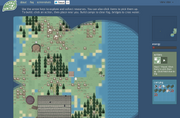 Welcome to the Make No Wonder Wiki
Edit
This wiki will help people with the web-game "Make No Wonder". There is little help given about the game so please add and edit pages!
Describe your topic
Edit
Write a description about your topic. Let your readers know what your topic is about and add some general information about it.
The Make No Wonder universe is comprised of varying sizes: 128, 256, 512 or 1024 square tiles. It is a map made up of fields, sand, water, resources and several landmarks. A player can gather such things as wood, stone and shells just to name a few. once these are gathered, the user can make a veriety of things like camps, canoes, shovels, axes and the like. The viewfield of a player follows them around, and the rest of the map stays darkened unless camps, platforms or flags are created, which will make a permenant viewfield on the map. There are no enemies, and gameplay is setup so that one person explores the land independently making various settlements along the way. Navigation is done by keyboard arrows or WASD controls. Resoursces are collected by mouse or moving the player across tiles. The mouse is also used to select resources to compile into tools or establishments.
Tiles on the Map
Edit
Things you can take
Edit
Crafting things
Edit
Crafting
Icon
Name
Recipe
Info

Camp

gives energy,
store things

Axe
cut down a tree -> wood

Canoe
travel over water

Platform

Slate roof
gives energy

Boots

2 birchbark
2 rabbit fur

walk on small mountains

Raft
8 wood

Crystal Radio

Shovel
dig holes

Quarry

Zipline

Rabbit fur
1 rabbit

Snare

Flag

1 berries

1 birchbark

Letter
Latest activity
Edit
Community content is available under
CC-BY-SA
unless otherwise noted.